Background
Allie features Bluetooth integration with Omron BP5250 blood pressure monitors. This guide provides best practices to ensure seamless transfer of blood pressure data from the blood pressure cuff to the AllieAllie Android application.
In order to pair the device, please make sure you have done the following during the installation process, completing all of the following:
Allowed Allie to turn Bluetooth on
Given Allie access to ""Location", Nearby Devices", and "Physical Activity"
Confirmed that Bluetooth is turned on for your phone
Note: If you have previously used a BP5250 to send blood pressure data to your phone via Bluetooth, you will need to delete any related applications. Then, go to your Bluetooth settings and "Forget" the previously connected device. We also recommend restarting your phone before proceeding with the pairing.
For best results, we recommend making sure that you are using the most recent versions of Allie and that your phone's operating system is up to date. More information on checking your settings/updating Allie can be found here.
You will also need to see an option for "Blood Pressure" in Allie. If you do not see this option, please check with your technician or Healthcare Provider to make sure they have set you up correctly.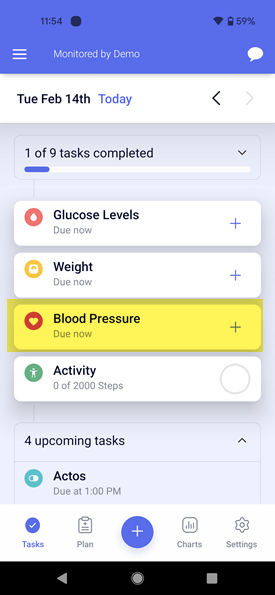 Pairing Instructions
Make sure the cuff is off. Then, open your Allie app, and go to "Settings" at the bottom right corner
Select "Connected Devices"

Then select "Blood Pressure Monitors"

Select the "Omron BP5250"

This will take you to Step 1 - Press and hold the transfer or bluetooth button on your device for 3 - 5 seconds until you see a flashing P on the device screen

Press and hold the button until you see the flashing "P" on your cuff. This indicates the cuff is in pairing mode

Once the cuff is in pairing mode, tap "Continue" to be brought to Step 2 in Allie - You should see flashing pairing symbols "P" and are now ready to pair

Tap "Continue" and when you go to the next screen, you'll see a "Pairing request" from your phone. Tap "Pair & connect" here, and then confirm you want to "Pair" in the next pop-up that displays.
Note - depending on the type of phone, your pop-up may look slightly different. This is fine, simply confirm you wish to "Pair" to proceed to the next step

The BP5250 should soon show 4 zeros, the "OK" icon, and the bluetooth symbol

Shortly after, Allie will update to show you the "Success" screen. You can tap "Done" to leave pairing mode

This will return you to the "Connected Devices" screen and you'll see that the BP5250 is listed under "Blood Pressure Monitors". You may quickly see the text "Syncing", which will change to "Not connected" - this is expected.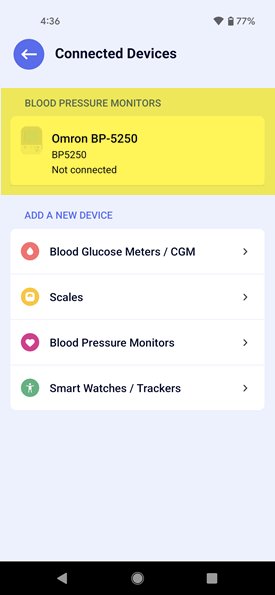 You can tap the "Start/Stop" button on the cuff to turn it off now and proceed with your first reading.
Uploading Blood Pressure Readings to Allie
When you are ready to take your blood pressure, open Allie and keep it open while you take your blood pressure
Wrap the blood pressure cuff around your upper arm above the elbow
Press the START/STOP button on the blood pressure monitor
The blood pressure cuff will inflate and then deflate. You will see the numbers go up and then back down on the cuff. This process may take up to a minute to complete.
When the cuff is finished, it will display your blood pressure and resting heart rate.

The reading will then be sent to Allie shortly afterwards (it may take a few seconds to synchronize). You'll likely see a quick message indicating "2 Tasks Logged" (for both Blood Pressure and Resting Heart Rate). The previous Task that was "Due" will no longer be visible - in order to see your blood pressure in Allie, you will need to expand the "Completed" section

When you expand the section, you should see your blood pressure with a "Bluetooth" symbol (indicating it was sent via Bluetooth) and a check-mark (indicating it is a completed task for the day)

The measurement will be available shortly for your healthcare provider. You can turn the cuff off by tapping the Start/Stop button again.
Note: As of January 2023, your resting heart rate will not display in Allie. This functionality will be added in the future.
If you are only expected to take your blood pressure once a day, you will not see any more blood pressure tasks for the day. However, if you take your blood pressure again later (making sure to keep Allie open), the new readings will be added to the "Completed" section. There will not be a check-mark for additional readings.
Please note: If you take your blood pressure but Allie is not currently open, the measurement may not show up in Allie. To address this, open up Allie and tap the Bluetooth button on the blood pressure cuff. This should send any recently saved readings from the cuff to Allie.
For general troubleshooting, please see here.
You can also see this section on troubleshooting specific issues with the blood pressure cuff.